Why KJN
For nearly 60 years, KJN Services has been providing customers with machinery and tools for hire and plumbing and draining supplies from its base in Marsh Gibbon, on the Bucks/Oxfordshire border. Originally founded by Keith J North (hence "KJN") the business is now run by his daughter and son, Vanessa and Alastair together with their highly experienced team of sales staff, mechanics, drivers and instructors.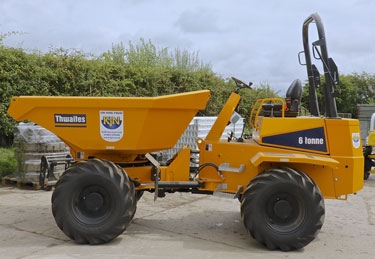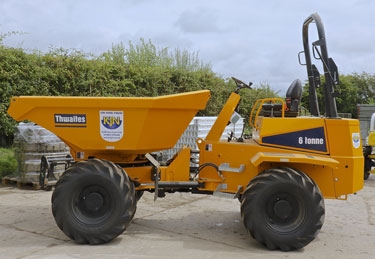 KJN Hire
KJN Hire has a huge fleet of equipment for hire which is used by customers in a variety of industries including construction, landscaping, building and highway maintenance, renewables and recycling and agriculture as well as many enthusiastic DIYers! You can hire equipment from a single day to the entire duration of your project. We'll work with you to help your job run smoothly and do our best to deliver and collect equipment promptly. KJN is very proud to have been awarded SafeHire Certification having demonstrated our commitment to high standards of service, quality management, health and safety, environmental management.
Open Monday to Friday from 7:30am to 5pm and Saturday 8:30 to noon you can make enquiries and book equipment in person, by phone, by email and through the website. We can also arrange site visits if you have specific requirements. Check out our website to see the full range of more than 450 categories of equipment for hire. You can reserve equipment 24 hours a day (subject to availability)!
Our hire fleet includes mini-diggers, excavators, dumpers, rollers, skidsteer loaders, generators, lighting towers and telescopic handlers for your big projects and diamond core drills, carpet cleaners, cultivators, woodchippers and scarifiers for all your garden maintenance and DIY jobs. For plumbing and heating engineers we have fusion welding sets, pipe freezing equipment, cutters, threaders, benders and press fit tools for hire.
KJN Access and Lifting
KJN Access and Lifting has a wide range of self-propelled cherry pickers, trailer mounted booms and scissor lifts for hire to meet your safe working at height needs. We also have the new Hook Up Hooka tracked loader, the ideal machine to manoeuvre bulk bags around your site safely and cost-effectively. Scaffold towers, hoists, beam and plasterboard lifters complement the range.
Established for more than 10 years, KJN Training offers regular machine training classes. You can learn how to operate a cherry-picker and scissor lift to gain your IPAF/Powered Access License (PAL). We also offer the NPORS (National Plant Operators Registration Scheme) courses to certify operators using excavators, dumpers, telescopic forklifts and abrasive wheels. Contact Vanessa@kjn.co.uk to reserve your place.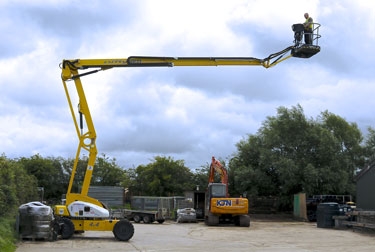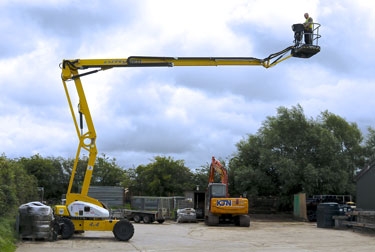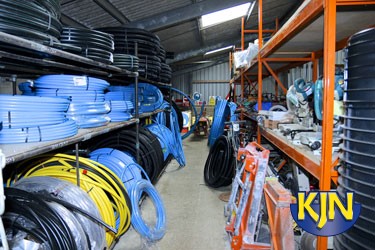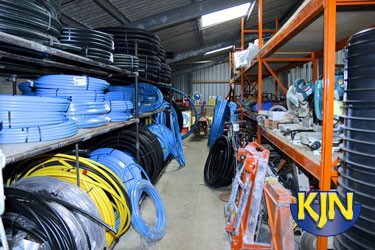 KJN Plumbing and Drainage Supplies
From its beginnings, KJN Plumbing and Drainage Supplies has been the go-to place when you have a tricky plumbing challenge. Not only do we stock all the standard plumbers' merchant lines, KJN also carries water pipe and fittings in a vast range of materials and sizes and our staff are experts in understanding your needs and helping to resolve your problem. Our massive stock range includes steel, copper and MDPE tube and fittings as well as push fit plumbing, valves, Plasson and Viking Johnson products. KJN stocks underground drainage pipe and fittings, perforated and twin wall pipe.
Titan and Harlequin bunded plastic oil tanks offer a 10 year guarantee, giving you complete peace of mind. KJN offers a range of single skin and bunded oil tanks for industrial and domestic installation from 430 litres up to 10,000 litres. We can also supply fire resistant, underground, steel and AdBlue tanks.
For water and chemical storage we carry the Enduramaxx range of quality polyethylene tanks for agricultural, industrial and residential applications from 150 to 30,000 litres.
If your property requires off-mains drainage we offer sewage treatment plants from Cleniviro, Harlequin and Klargester. These systems are designed to meet and often exceed current effluence standards and their wide range of benefits include the removal of all solids and pollutants, zero unpleasant odour and compliance with environmental regulations.
KJN Tools
KJN Tools offers customers thousands of products to buy online through our Toolbank Express link. Here you will find hand tools, power tools and hardware from many of the world's leading manufacturers from a range of up to 25,000 quality products and then buy them on-line for delivery to your site, office or home.